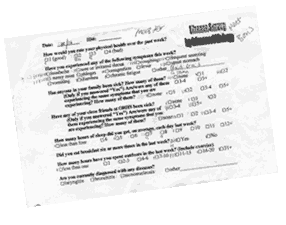 The Advanced Biology Class composed a two section questionnaire that was distributed to 200 Biology students at Oyster River High School. The first section of the questionnaire was meant to gather general health related information from the student body. The survey, shown below, targeted the areas of exercise, medical problems and treatments, health habits, diet, as well as established the students' schedule which may be used to determine any links between building location and sickness.

Students were also given a short weekly survey, meant to gather data about the students' health for that week. This questionnaire is shown towards the bottom of the page. All students were issued an ID number which linked the answers given on the weekly survey to the health facts gathered in the beginning.

Feel free to submit the forms below which are exact replicas of the paper versions that we use to poll biology classes weekly. While input gathered from this website will not be counted in our experiment it does give us an idea of another data source.